Selling Your Leased Solar Home
Alternative Energy Systems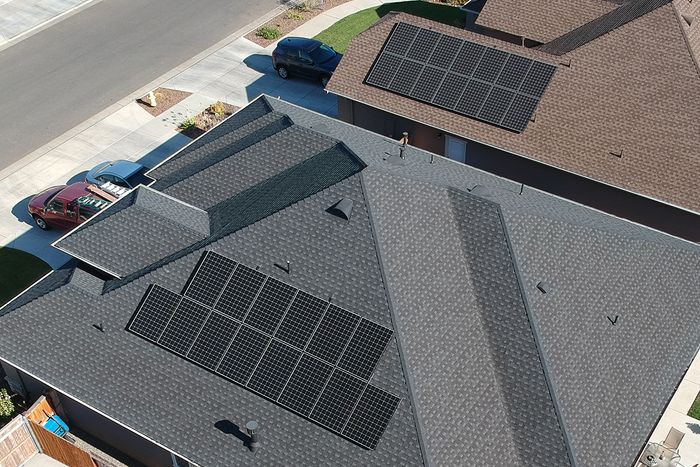 This is the second part of a three-part blog talking about selling your solar home. Read part one here.
You may have heard from friends, family, and your realtor that homes with leased solar present challenges when it comes to selling. And, as there are many solar leases out there, it may be true with others. However, if you have a SunPower© leased system, you already know it's in its own class. Let's get into some of the details.
First, we'll start by saying not all solar leases are equal.
At Alternative Energy Systems (AES), most of the residential solar systems we install are by SunPower. We stand behind SunPower because of the superior build and quality of the systems, as well as the great warranty and the fantastic financing options. A SunPower system coupled with an AES SunPower lease is a combination of the best solar products on the market.
Most people opt for SunPower leased solar because it requires no money down, and since the system is owned by a third party, lessees don't have to worry about maintenance of the equipment. It ultimately costs a little more than purchased solar, however the convenience of no money down and worry-free maintenance may be the best option for your situation, and the rates for the energy produced are designed to cost you less than your traditional energy.
What makes SunPower's lease different?
The AES SunPower lease is notable for a couple of reasons. The most important one being that the AES SunPower lease typically doesn't have an escalator. A lease escalator is a fixed percentage that a lease payment increases year by year, determined when the solar was installed. Escalators are common in many leases as well as power purchase agreements (PPAs) and can substantially reduce your savings, even with utility rates consistently going up. Since your AES SunPower lease doesn't include an escalator, the rate you pay for your solar-produced energy stays the same.
SunPower's lease also comes with a solid production guarantee. If you find your system to be under-performing, you can get in touch with AES and we can help find out what's going on. Additionally, you can check out their lease production guarantee in your owner's manual and review their "frequently asked questions" here.
Unlike other solar leases, SunPower leases are designed for easy transfer to new homeowners. Something to take into consideration is that the system was originally designed to provide energy at a lower rate than offered by your utility. Since there is no escalator in the SunPower lease, this energy rate stays consistent, so a system purchased five years down the road will provide even greater savings, especially compared with the rate elevations we're seeing now.

You may have heard that for some, selling their home with leased solar is more difficult because the buyer has to qualify for the lease terms. This is true, however, the requirement to meet these terms is typically easier than qualifying for the home's mortgage to begin with, and most people who qualify for a home loan will easily qualify for the lease. Remember that the lease payment is not considered an additional expense, but a trade-off for lower electricity bills, and should reduce the lessee's financial burden, not add to it.
It's also possible for the new buyer to buy out the lease, however this is a much less desirable action.
What are the main benefits of a SunPower lease?
Leasing offers a way to step into solar by helping you reduce your energy bill in the form of no upfront costs and locking in your energy rate indefinitely.

The energy generated is yours to use, and you are provided a production guarantee, backed by SunPower. Your relationship with your utility regarding how your energy is banked for you to use later is exactly the same whether you lease or own your system. The utility doesn't even know which option you used.

The leased equipment belongs to the manufacturer, and they are responsible for maintenance. This is especially valuable in the North Valley, as we see more wildfires, insurance and expenses relating to solar repairs keep rising. Solar-owners are on the hook if they lose their home in a fire, while there is a process in place for terminating the agreement with SunPower.

It's actually quite easy to transfer a SunPower lease.
Whether your home's buyer chooses to take over the lease or opt for a buyout during the transfer, SunPower requires a 30-day notice prior to the home sale. For the buyer, there is a credit check and then an escrow of 7-10 days. Key to transferring the lease is the UCC, which is the pink slip for your solar. This is attached to your home's title, but isn't a lien on the value of the home. Transferring the UCC costs about $250, for either lease or loan transferred solar.
If you have additional questions about your AES SunPower lease, check out SunPower's FAQ page.
Key take-aways for selling your home with leased solar:
Transferring a lease means the home buyer gets to take advantage of the energy rate locked in when the lease originated.

Experts agree that when selling a solar home, even with leased solar, it still adds to the value of the home.

It's possible for the new buyer to buy out the lease, however, this is a much less desirable action as the buyer either needs to have cash or the ability to take out the additional financing.

When transferring the lease, the original lessee needs to contact SunPower 30 days prior to the sale in order to take care of transferring the UCC.
Ready to sell?
When you first consider selling your home, it's a good idea to look into the lease transfer process. First, you'll want to get in touch with AES to let us know you want to sell. Our staff can help walk you through the process and forward the information you need for your next steps.