Find Out About Roof-Mounted Solar Panels
Roof-mounted solar power systems offer the most cost-effective solar solutions for homeowners. To learn how much money you could be saving each month, you can contact the team at Alternative Energy Systems Inc. We will be happy to discuss roof-mounted panel options for your home, giving you the best quality service. You can also visit our showroom in Chico to talk in-person to our team and to see our solar panels in action. We are open Monday through Saturday in the New Earth Market shopping center, and we are always ready to discuss solar power!
Roof-mounted solar panels can help your home in many ways, including:
Reduce energy costs

Increase your home's value

Decrease your dependence on large energy companies

Provide eco-friendly energy
Increase Your Home's Value
Not only can adding solar panels to your home reduce your monthly energy bills, but they can actually increase the overall value of your home! Everyone wants to save money on their bills, and since your roof-mounted solar panels can be transferable to the new owner if you sell your house, they can be a large selling point. We also offer a variety of other energy services that can help to improve your home's value, like standby generators and battery storage. These can also help to save you even more on your monthly power when you combine them with your roof-mounted solar panels.

Great For Any Roof
There are a huge variety of roofing types in California — from asphalt shingles to metal roofing to tiles. Luckily, roof-mounted solar panels are able to be installed on almost any type of roof. Whether you have a broad, flat roof or a steep, slanted roof, the team at AES will be able to install panels without issue. We will partner with you to place them in the best spot where they will be sure to catch as many rays from the sun as possible, therefore increasing your energy savings. To discover if your roof will work for roof-mounted panels or if you should explore ground-mounted panels, you can contact our Chico team today! We will visit your home and give you a free consultation and recommend a layout of solar panels that will work best for your home.

Learn How Much You Can Save
We know that solar panels can seem like a huge investment, but they have actually become much more affordable in recent years. This has become especially true with the various tax breaks and government bonuses that you can receive if you add solar to your home. In fact, we are so confident that we will be able to save you money with roof-mounted solar for your home that we will even go over your bills with you and show you the potential savings! During your free consultation, our solar experts will go over your monthly energy bills and show you the amount of money that AES will be able to save when you make the swap to solar panels. We will also partner with you to ensure you receive all of the available rebates, tax breaks, and other savings when you decide to install solar on your home.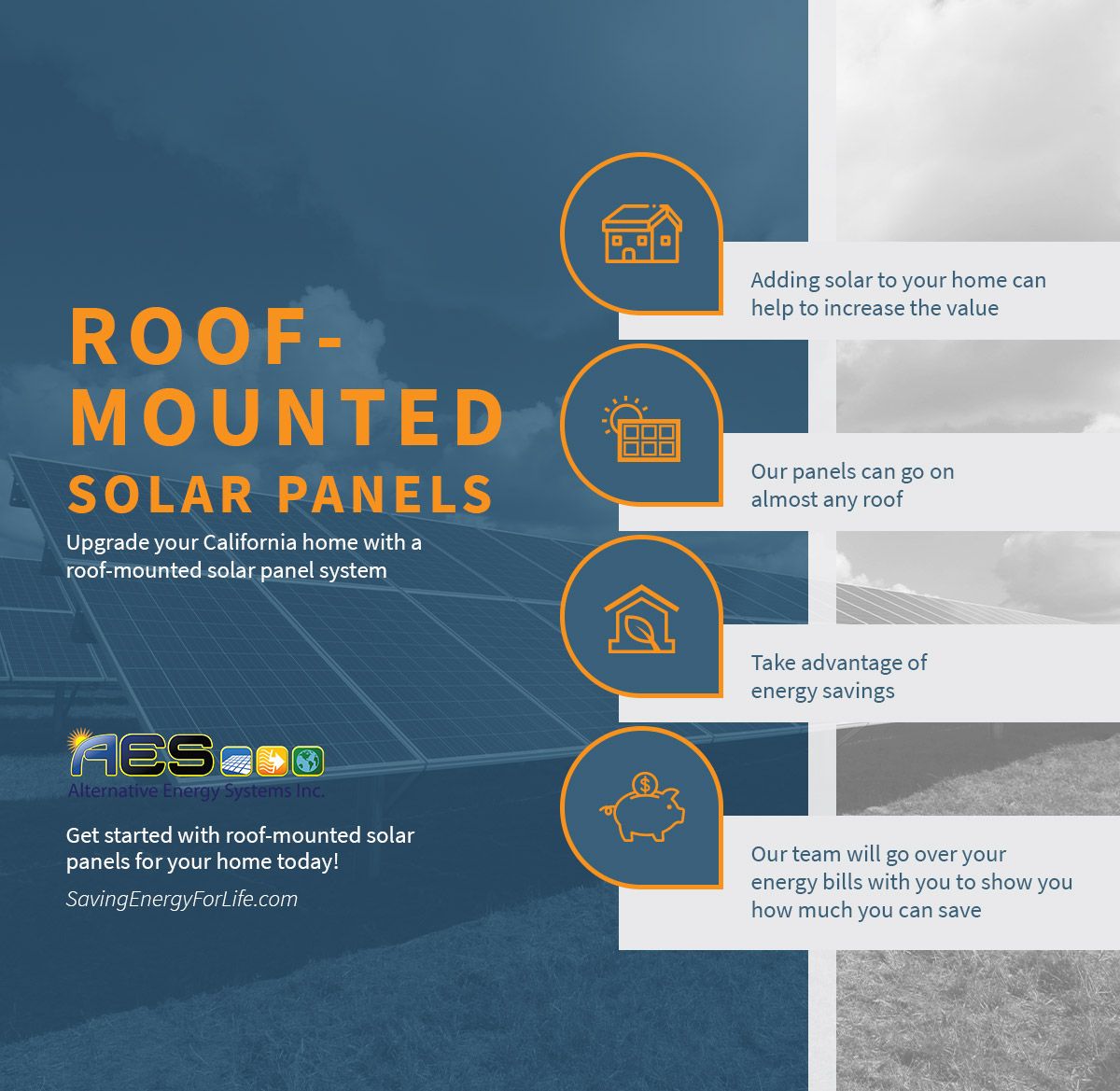 Schedule A Consultation With AES
When you're ready to get started with a new roof-mounted solar system for your home, you can count on the team at AES. We've been serving the North Valley since 2003, and we will happily help you save money with new solar panels. Get in touch with us now or visit our Chico showroom to see the solar options in action.