PRESS RELEASE - Alternative Energy Systems Inc. Honored with SunPower 2018 "Commercial Regional Dealer of the Year" Award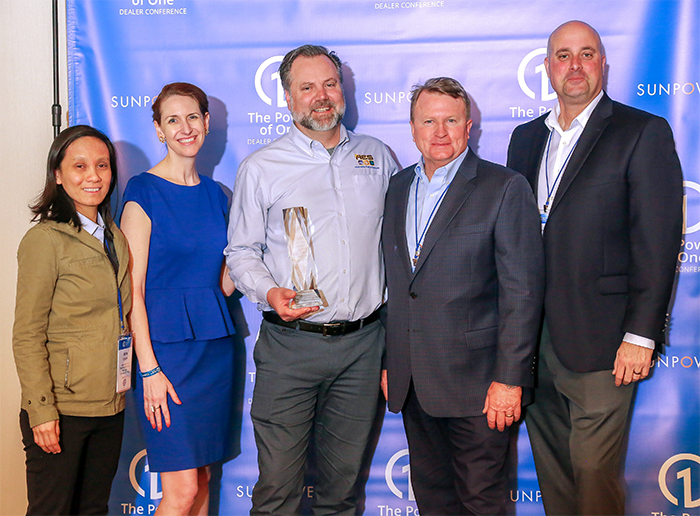 (L to R) Nam Nguyen (Executive Vice President and General Manager, Commercial Solar), Jenny Zimmerman (Director of Marketing at AES), Tim Hamor (Co-owner of AES), Daryl Franks (Western Area Sales Manager, Commercial Solar), Derek Noble (National Sales Director, Commercial Solar)
Alternative Energy Systems Inc. (AES), a North Valley-based solar installer, has received the SunPower "Commercial Regional Dealer of the Year" award for its outstanding performance as a SunPower dealer in 2018.
"We are very excited to once again be recognized for our commercial solar installations in the North Valley by SunPower," said Tim Hamor, co-owner of Alternative Energy Systems Inc. "The 'Commercial Regional Dealer of the year' award is a great reminder of the amazing team we have at AES. Whether you are a small farm, church, grocery store, or Fortune 500 company, AES can design and install a quality solar system that will lower your cost of energy for decades to come."
The "Commercial Regional Dealer of the Year" award honors SunPower commercial dealers in select regions of the United States that consistently put customers first, while demonstrating exceptional industry knowledge and leadership.
"SunPower's reputable national dealer network is strengthened by regional solar companies like Alternative Energy Systems Inc., selected for their quality craftsmanship, industry expertise and customer service," said Nam Nguyen, SunPower executive vice president, commercial solar. "We congratulate AES for an extraordinary performance in 2018 as a commercial dealer, delivering the value of SunPower solar to businesses in their communities."
For AES, 2018 was anything but typical, and this award signifies the hard work and determination of not just the employees, but the community as well. During that time, several major wildfires impacted California's North Valley region. AES worked hard to support the needs of the community as well as those of its own staff. Of note, both the Carr and Camp Fires directly affected the service area and AES employees. With close to 20 percent of AES' staff displaced by fires, AES was one of the most impacted solar integrators in the state. Employee and public fundraisers held by AES raised donations in excess of their affected staff's needs and AES was able to donate to the community-serving local organizations they support, such as the Work Training Center (WTC) and Boys and Girls Club of the North Valley.
For more information on Alternative Energy Systems, call 530.345.6980 or visit SavingEnergyforLife.com.
About Alternative Energy Systems Inc.
Founded in 2003, Alternative Energy Systems (AES) recognized the potential for bringing solar to the North Valley's residential and commercial customers. In 2008, AES partnered with SunPower to couple their regional expertise with SunPower's premier solar product. AES brings the expertise of more than 15 years in the industry, serving customers in their home as well as in the region's first solar showroom, located in the New Earth Market shopping center at 876 East Avenue, Chico, Calif.